Starting an eCommerce business is like an auction. To get the success you need to compete with the industry leaders to mark your place in the race. In order to that, the presentation of your website is the first thing you need to work on. As customers notice it at their first glance. And when the look and feel of your e-store go right with the customer flow, you are sure to achieve your target numbers.
When I see people kick-starting their eCommerce business, the first thing they look up to is the platform. And I must say that apart from the industry giants like Magento and Shopify, Odoo is a platform that has become the first choice of new adopters. But things get overwhelming when it comes to choosing a theme. You have to be particular about the choice you make. After all your website theme represents your style. About the fonts, color combinations and all other small details, you have to keep a crystal clear view from your side.
There are many Odoo Themes available in the market to choose. However, it has never been easy to find that one-of-a-kind theme. So, here's a list of five all-time entrepreneurs' favorite Odoo themes you can use for your next project:
1) Crafito

Crafito is one of the best sellers on the Odoo Theme Store. This theme comes with a huge collection of custom-made snippets that you can control over any part of your website. Therefore, it becomes compatible with any type of industry business. It's an HTML5 based eCommerce theme built with bootstrap. If you are working with the odoo12, it is compatible with the latest version as well. Here are the highlights of the theme:
a)- Mobile Friendly:
When you have an eCommerce store, you want to make sure that it's visible in the search engines. Especially, when Google is ruling the web, the first thing you need to focus on is the mobile-friendliness of your website. And Crafito theme supports multi-device design approach which makes it compatible with all screen sizes.
b)- Multipurpose Theme:
The development of is a dynamic process. Because every entrepreneur in the market has different purposes for their businesses. Be it an affiliate store, one-page website, or a most complex ecommerce website, this theme suits all types of needs.
c)- Suitable For Your Industry:
Crafito theme comes with unique design options which suit any industry type. You can choose this theme for your website to pull out the desired layouts.
2) Kingfisher Theme

If you are looking for an HTML5 bootstrap based theme for Odoo, Kingfisher theme can be a perfect choice. It's a leading Odoo business theme that is easy to customize and gives an elegant look to your e-store. Here are some of its features:
a)- Odoo E-commerce Theme:
When you have your e-store built with Odoo, the Kingfisher Theme fits the best in place. As this theme has specially crafted keeping all the industry demands in mind, it fulfills all the requirements from developers to an individual user's point of view.
b)- High Website Speed:
When a website responds slowly, visitors don't spend much time there. Optimized speed is one of the most important components of any website. This theme ensures the high website speed so that you can make sure that your website works smoothly and generate expected results.
c)- HTML5 & CSS3 Based Theme
The key benefit of this theme is that it's multipurpose and has built using HTML5 and CSS3. So, you have a lump of clay which can be shaped into any form of your choice.
3) Falcon Material Backend Theme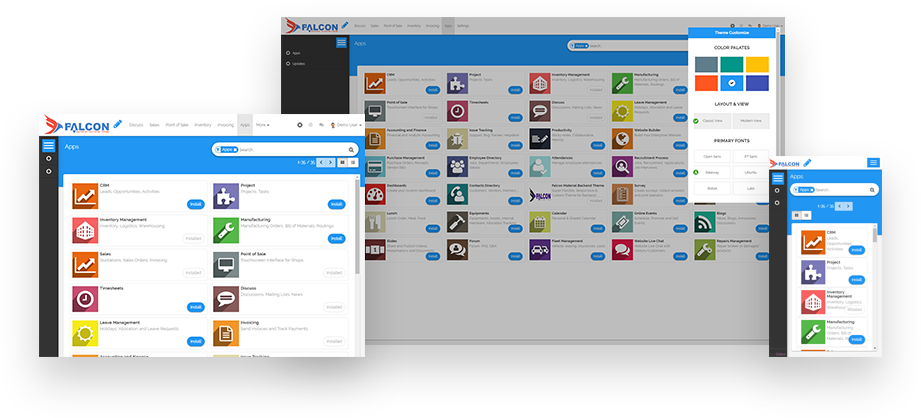 The backend of your website is an important part. There are hundreds of components to handle from there so that you can make sure that your store is working up to date. This theme is specially built for the backend. This is an upgraded version of the Flacon Backend theme. Here are some of its features:
a)- Vibrant Design Layouts:
With this theme, your backend looks pretty and more organized. You can easily manage the backend of your e-store with its impeccable viewing facility.
b)- Easily Customizable:
It is important to understand that customization is necessary. There will be times when you need to customize the sections of your e-store. This Odoo backend theme comes with some amazing customization functionalities. So, you can customize the backend the way you want.
c)- Mobile Friendly:
Yes! A backend theme compatible with Mobile devices. With the Falcon material backend theme, you will be able to manage your backend at anywhere anytime.
4) Mobicraft Theme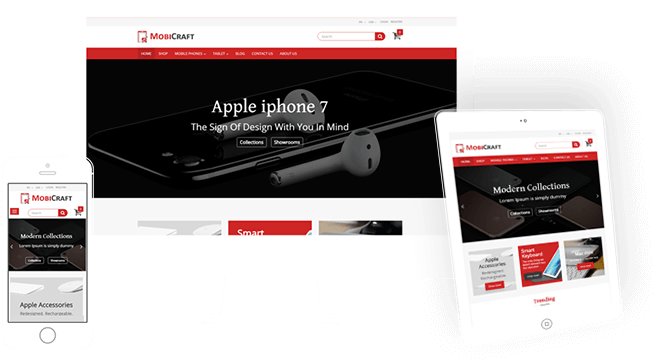 This Odoo Ecommerce theme is specially built for eCommerce stores that offer mobiles and other gadgets. Based on HTML5 and bootstrap, this Odoo theme is a bestselling mobile theme among its competitors. Here are some of its features.
a)- Snippet For Banner Slider:
To give a rich and exclusive feel to your e-store, banner sliders are one of the most impactable ways. And with this theme, you get the brand slider snipper display. This way, you can highlight the most engaging brands. You can even customize the banner and images.
b)- Multiple Store Support:
There are many users out there who constantly look for a theme which supports multi-store. This way, you can add multiple languages and currencies accordingly. With the Mobicraft theme, you get the facility to manage multiple stores.
c)- Customizable Shop Page;
Based on Admin's requirements, this theme has the facility to configure store shop. You can add or remove the required components with the help of this Odoo ecommerce theme for the mobile website.
5) Kingfisher Pro Fashion

The fashion industry is one of the most competitive industries today. This theme is exclusively made for the fashion world. It supports the latest Odoo version 12. It's important to offer improved user flow and the shopping experience to your customers. Here are some of its feature highlights:
a)- Easy Customizations:
In the fashion industry, customizations are more frequent than any other industry. This theme lets you customize the Odoo ecommerce theme the way you want. You can easily change the color combinations, layout, and fonts of the theme.
b)- Multiple Product Views:
While shopping, sometimes it's never satisfying no matter for how many times we see, try on the clothes. Therefore, when you offer online buying options, it is important to provide an insightful view of your products. With this theme, a user can see the back side of the product as well by hovering over the image.
c)- Snipper For Product Slider:
You can add a snippet to your eCommerce store which contains exclusive products from the product list. Your customers can add product directly to the cart. Additionally, they can see the rating of the related product.
Wrapping Up…
Apart from the above-listed features, there are other features available for these themes that may fulfill the gap of requirements for your eCommerce store. While choosing a right kind of theme from thousands of available Odoo themes out there, it's you to decide the final choice.
The major focus is to make sure that the theme is responsive, optimized for speed, and customizable. The above Odoo Ecommerce themes have their own set of specialties. All with a premium look and features that an ideal theme should have. Now, the choice is yours! Streamline your eCommerce requirements to choose your Odoo Ecommerce theme.
Never miss a story..!!
Grab the Latest SEO & SMO News, Tips, Updates & Trends..!!
See Our Blogcenter
---
Want to share your thoughts with our readers? Learn how to become a contributing author